Credit goes to LostHero77 and PZH145 for coming up with the original idea


Update: I am moving the event to 8 PM EDT to accommodate the Australians/New Zealanders. Add 8 hours to the original time you were going to play.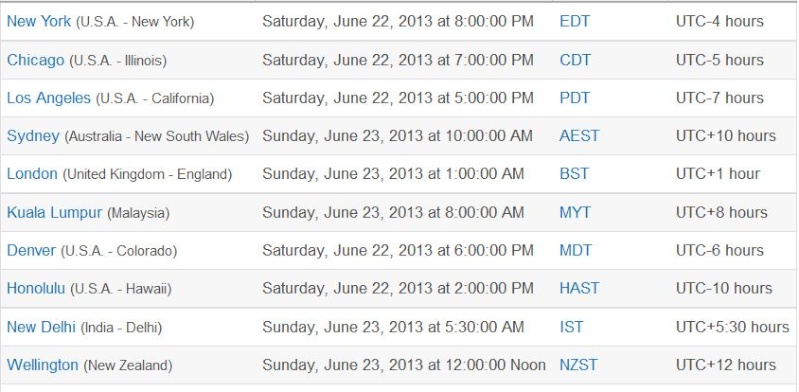 New York (U.S.A. - New York) Saturday, June 22, 2013 at 8:00:00 PM EDT UTC-4 hours
Chicago (U.S.A. - Illinois) Saturday, June 22, 2013 at 7:00:00 PM CDT UTC-5 hours
Los Angeles (U.S.A. - California) Saturday, June 22, 2013 at 5:00:00 PM PDT UTC-7 hours
Sydney (Australia - New South Wales) Sunday, June 23, 2013 at 10:00:00 AM AEST UTC+10 hours
London (United Kingdom - England) Sunday, June 23, 2013 at 1:00:00 AM BST UTC+1 hour
Kuala Lumpur (Malaysia) Sunday, June 23, 2013 at 8:00:00 AM MYT UTC+8 hours
Denver (U.S.A. - Colorado) Saturday, June 22, 2013 at 6:00:00 PM MDT UTC-6 hours
Honolulu (U.S.A. - Hawaii) Saturday, June 22, 2013 at 2:00:00 PM HAST UTC-10 hours
New Delhi (India - Delhi) Sunday, June 23, 2013 at 5:30:00 AM IST UTC+5:30 hours
Wellington (New Zealand) Sunday, June 23, 2013 at 12:00:00 Noon NZST UTC+12 hours
Corresponding UTC (GMT) Sunday, June 23, 2013 at 00:00:00


---


Additionally, PZH cannot attend. We need someone to take his place as head of the Blue Faction.



---
As you know we are close to resetting. Before we do, however, how about we let the map go out with a
bang!
After making a backup of the map, let's turn the map into a PVP one. There will be 2-3 main factions: red, blue, and (maybe, depending on number of participants) green. You can see more information on the map below. 
How it works:
Each faction will have a few or several (depending on number of participants) wool objectives, kind of like capture the flag. The wool will be placed in important locations around each factions illustrated "sphere" (though to speed things up most of them will be located near the border-no man's land regions).
The goal of each faction is to try to
retrieve
everyone else's wool. This means that after getting each wool you need to bring it back to base to your victory monument.
If all your wool is in other factions' bases, then you automatically lose. At this point, the other faction(s) may choose to recruit you.
If after a certain amount of time (you guys can decide the time limit) there is still more than one faction remaining, the faction with the most amount of wool (either enemy wool in their base or wool they managed to keep).
Rules of Engagement:
1.
NO DIAMOND ARMOR!
Diamond armor slows the game down considerably. No diamond armor will be provided. If anyone is seen with diamond armor they are immediately kicked and banned for the rest of the time period. Feel free to use diamond
tools/weapons
though.
2. No holding grudges.
3. Foul mouthing is OK to an extent but all-caps constant cursing is illegal and may result in kicks, mutes, and session bans. If someone asks you to stop then you must stop.
4 .
Iron armor cannot be enchanted with protection or projectile protection
(once again to speed things up in this massive map).
5. No sabotaging your faction's efforts.
6. Although plenty of items are provided at caches at your base and throughout faction spheres near wool objectives, feel free to use the resources around you.
7. No land-claiming the wool objectives! This would make it impossible for the other team to retrieve them.
8. You can claim all land that would not violate rule 7 (only the caches and the bases and the land between them are actually claimed right from the beginning).
9. Have fun!
Guidelines:
1. If you're defending, don't just do nothing while waiting for them to attack. Set up defenses. Claim land that wouldn't violate the rules.
2. Use the map to your advantage! The rails lead directly to Red's cities and the stations there are near the objectives. On the flip side, red can use the rails to quickly reach defensive points and shut down any organized offensive.
3. If someone who hasn't joined a faction joins the server, you should probably try to get them to join your faction.
4. Boats, boats, boats. If you're traveling around the map but travel via rail isn't possible (the destination isn't near any station whatsoever as in Green objectives, an enemy faction is dominating the rails, etc.), then boats will be your best friend. They move much faster then simply walking the terrain and of course there won't be any terrain difficulties with cliffs/mountains/dense forests. Bring a bow and arrow though.
5. Communicate with your team! If you see an enemy, call it out.
6. If you can control the purple/yellow points I circled, then you will have a great advantage
7. TNT cannons. 'Nuff said.
---
On the other PVP ideas proposed:
I feel that we should just have a PVP day where we can try out all of the PVP events :)Please don't have this until next Thursday (American timezones) as I do have finals that I need to study for and take.
---
Map: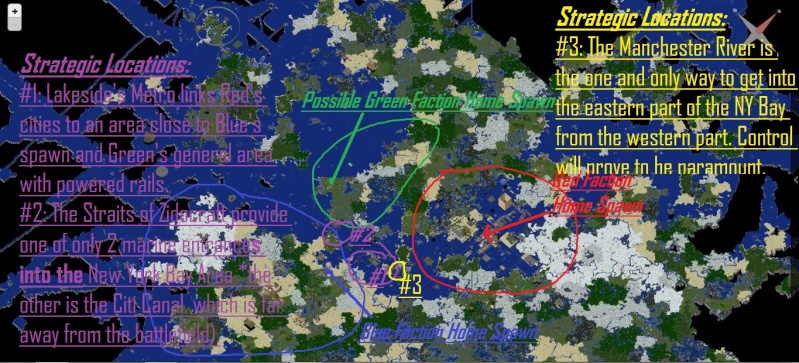 ---
Application for Participation Template:
IGN:
Rank:
Preferred faction:
2nd most preferred faction:
Last edited by thek826 on Sat Jun 22, 2013 1:23 am; edited 7 times in total